La fabrication et exportation
des Juvaquatre dans le monde.
Fabrication and exportation
of Juvaquatre around the world.
1:France

Les Juvaquatre ont été assemblées sur l'île Seguin à Boulogne Billancourt prés de Paris de 1937 à 1952.
Courant 1952 la production va se poursuivre dans la nouvelle usine Renault de Flins située dans les Yvelines (78).
Billancourt et Flins produiront les Juva à conduite à gauche et à conduite à droite.
From 1937 to 1952 the Juvaquatre were made in the Seguin island in Boulogne Billancourt near Paris.
During 1952 the production moved to the new Renault manufacturing plant in Flins situated in Yvelines (78)
Billancourt and Flins produced both left and right-hand drive Juva
2: Belgique

L'usine Renault d'Haren dés 1938 va monter des Juvaquatre , les voitures arrivent de France en kit CKD.
De l'anglais: Completely knocked down ( complètement démonté)
L'usine Belge poursuivra l'assemblage de tous les types de la Juvaquatre jusqu'en Janvier 1960.
From 1938, the Haren Renault factory starts to build Juva, which arrive in CKD (Completely Knocked Down) kits from France.
The Belgium factory continued to build every type of Juva up until January 1960
3: Grande-Bretagne

L'usine Renault d' Acton située prés de Londres, montera aussi des Juvaquatre
en CKD à conduite à droite partir de juin 1947.
Elle cessera ces montages en 1951.
The Acton factory near London also built the CKD right-hand drive Juva from June 1947 until 1951.
4: Australie

En 1939 est fabriquée à Billancourt, une série spéciale de 53 coach à conduite à droite,
destinée au marché Australien cette série sera du type type BFJ1.
In 1939, a special range of right-hand drive 53 coach were built in the Billancourt factory.
This range specially made from the Australian market was the BFJ1 type.
5: USA

En 1946-1947 se sont prés de mille Juvaquatre du type BFK4 et une centaine de Fourgonnette AHG2
qui seront importées dans le pays de l'oncle Sam.
Between 1946 and 1947, almost a thousand BFK4 Juva and a hundred AHG2 van
were imported into the country of Uncle Sam.
6: Mexique

Il sera monté à Billancourt cinquante fourgonnettes du type AHG2 destinées au Mexique en novembre 1949.
In November 1949, the Billancourt factory made fifty AHG2 vans for the Mexican market .
7: Israël

A partir de décembre 1955 l'usine Ilin industries Ltd située à Haifa assemblera des fourgonnettes exclusivement
(pour des raisons de taxes " qui sont moins lourdes pour un utilitaire")
Du type R 2100 puis R2101.
Les voitures arrivent en Israël en kit CKD et ce jusqu'en avril 1959. (Merci à Yohay pour ses précisions)
From December 1955, the Ilin Inductries Ltd factory in Haifa only made R2100 and R210 vans (because of the tax system, which is less important for utility cars)
The cars were sent in CKD kits until 1959 (Thanks to Yohay for this information)
8: Indonésie

En octobre et novembre 1956 , 80 fourgonnettes à direction à droite du type R2101, seront assemblées pour ce pays.
In October and November 1956, 80 R2101 right-hand drive vans were made for this country.
9: Indes

Vers la fin de la carrière de la Juvaquatre, courant 1959 , une étude a été menée avec des industriels Hindous "les Mahindra" pour fabriquer la fourgonnette aux Indes parallèlement à la 4cv mais cela ne se fit pas.
A market study has been led in the final years of the production of Juva (around 1959) by Hindu industrials, the « Mahindras ». The idea was to produce a van at the same time as the 4CV, But this project was abandonned.
---
Les montages et exportations ci-dessus concernent les grosses quantités ou les séries spéciales.
Toutefois la Juvaquatre a été exportée dans de nombreux pays en plus petite quantité.
The above contructions and exportation concern large quantites or special ranges.
However, the juvaquatre has been exported to several countries in smaller quantities.

02/02/11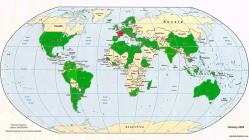 Sur cette mappemonde, en vert les pays où il y a eu des Juvaquatre importées.
On this map all the countries where the Juvaquatre were imported are shown in green.
EUROPE:
AUTRICHE--ROUMANIE-POLOGNE-TCHECOSLOVAQUIE-ALLEMAGNE-DANEMARK-NORVEGE-SUEDE-FINLANDE-ISLANDE
PAYS BAS-LUXEMBOURG-ESPAGNE-PORTUGAL-BULGARIE-SUISSE
Quasiment tous les pays d'Europe sauf: L'Italie , l' URSS, l'Albanie et la Grèce
En effet je n'ai pas retrouvé la moindre trace de livraison dans ces quatre pays!

Almost all of the European countries except from Italy, Russia Albania and Greece.
Indeed, I could find no trace of deliveries to those four countries.
AFRIQUE:
ALGERIE-DJIBOUTI-DAHOMEY-MAROC-TUNISIE-EGYPTE-SENEGAL-COTE D'IVOIRE-ETHIOPIE-GUINEE-MADAGASCAR-LA REUNION-TCHAD-LYBIE.
AMÉRIQUE DU SUD:
ARGENTINE-BRESIL-CHILI-PEROU--VENEZUELA
24/12/2005
ASIE:
FORMOSE(Taiwan)-CHINE (Shanghai)-INDOCHINE-PHILIPINE-IRAN-IRAK-LIBAN-PALESTINE-TURQUIE
PACIFIQUE:
TAHITI-NOUVELLE-CALEDONIE
Peut-être en ai-je omis certains , je serai très heureux d'apporter des ajouts à la liste de ces pays
qui ont vu des Juvaquatre sillonner leurs routes. D'avance merci pour votre aide.
I may have failed to mention some of the other countries,
if so I will be pleased to add them to the list.
Thankyou for your help
Translated by Fanny Sliwowski